Why choose BKC Dog Kennels?
We don't believe that dogs should live in kennels! Our fully tiled kennels are only for sleeping and eating (so we can of course monitor your pets food intake) during the days, pets are allocated their own grassy outdoor play camps. The outdoor camps include splash pools for our boarders who enjoy water, lovely shady areas and free access at all times to water. (families will be together)
Your pet won't share kennels with other families. Your pets kennel will belong to your pet for the entire stay. Sharing with other families can create severe stress (especially in cats), we won't put your pet in an uncomfortable situation for him/her. Our single guests will form strong bonds with their handlers while in kennels and with the great routine that is offered will love their time at BKCpet.
Can't get to us or do your pets absolutely hate travelling in the car? Don't worry! We offer a full professional collection nd delivery service too!
This service is carried out by ourselves or a registered animal transport company.
Collections and Deliveries Monday to Friday 09h00 – 16h00
We offer our guests premium quality dog food jammed with Omega 3 and 6. If your pet is on their own special or medicated diet please do feel free to bring their diet along with feeding instructions. We will be happy to feed according to your instructions.
BKCpet will administer any necessary medication (medication must be provided by our client with clear dosage and pet description). Please ensure that you provide clear instruction on medication and enough medication during your pets stay.
We will NEVER charge extra to medicate your pet. Each pet is an individual and we won't ever discriminate against a guest who has special needs.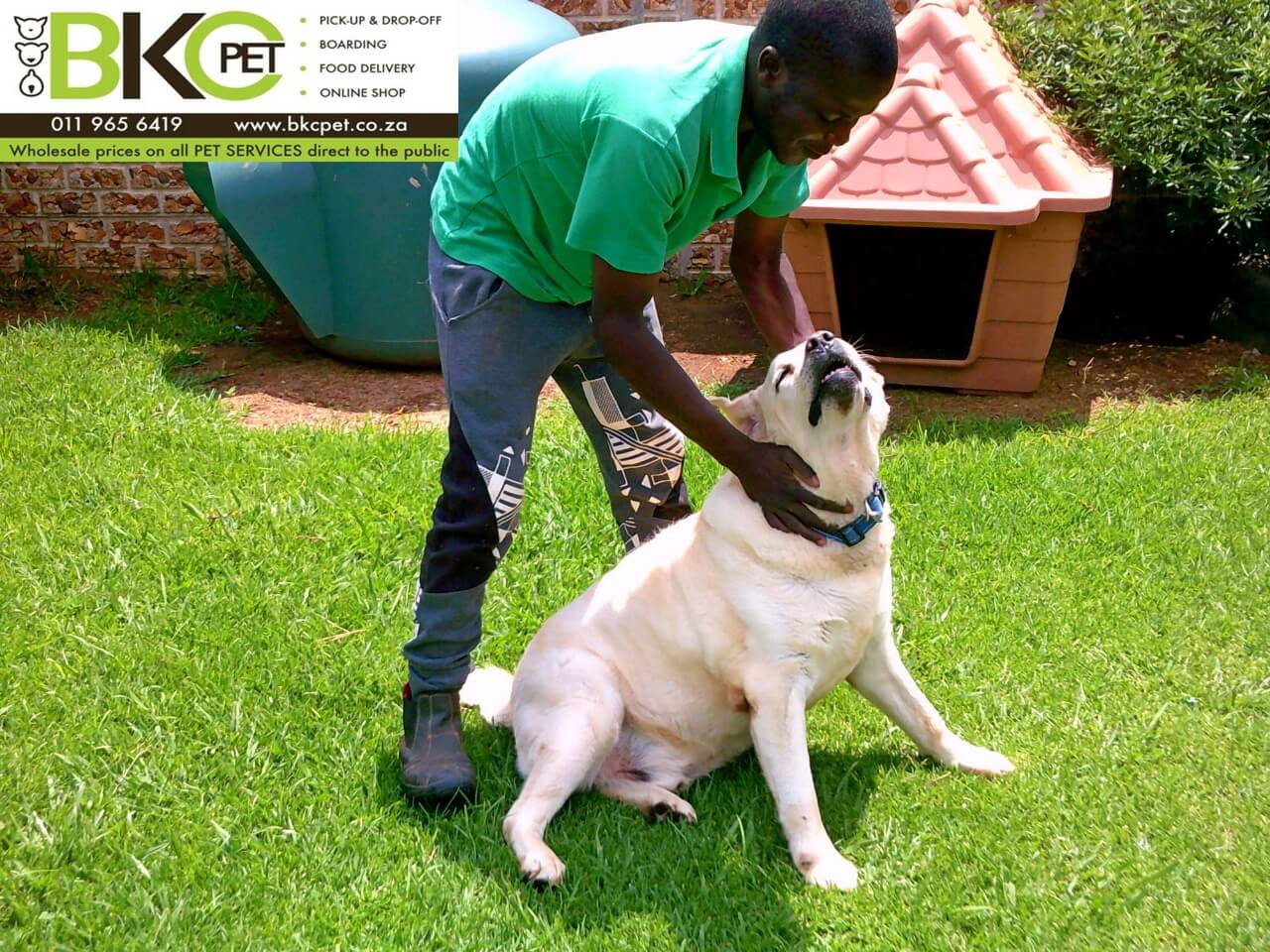 Heating for those cold months
Being on the East Rand of Gauteng, we are blessed to have a rather good climate!
However, for when the frost bites, we have fully tiled underfloor heating.
For the guests who don't like the heating, we provide big comfy beds and extra blankets for the guests to snuggle up in. All our kennels are covered and guests are well protected from the elements.
BKC Pet boarding has a vet on call 24 hours a day. Emergencies happen and we are prepared for them with support of excellent professional Veterinarians.
On arrival to BKC Pet boarding, every pet has a basic health check. Weights taken and general condition is assessed and recorded. This helps us monitor the statistics of your pet during his / her stay with us.
Your pet will have a daily visual health exam done by a kennel supervisor, with the hands on, one on one playtime we use all this "data" to ensure your pet is receiving the best care and his / her stay is happy and healthy.
Looking for a safe, clean boarding for your pet?
BKC Pet Boarding is the best pet hotel in Gauteng.
Kennels and secure cattery for pets of all shapes and sizes.
Get your free quote today.